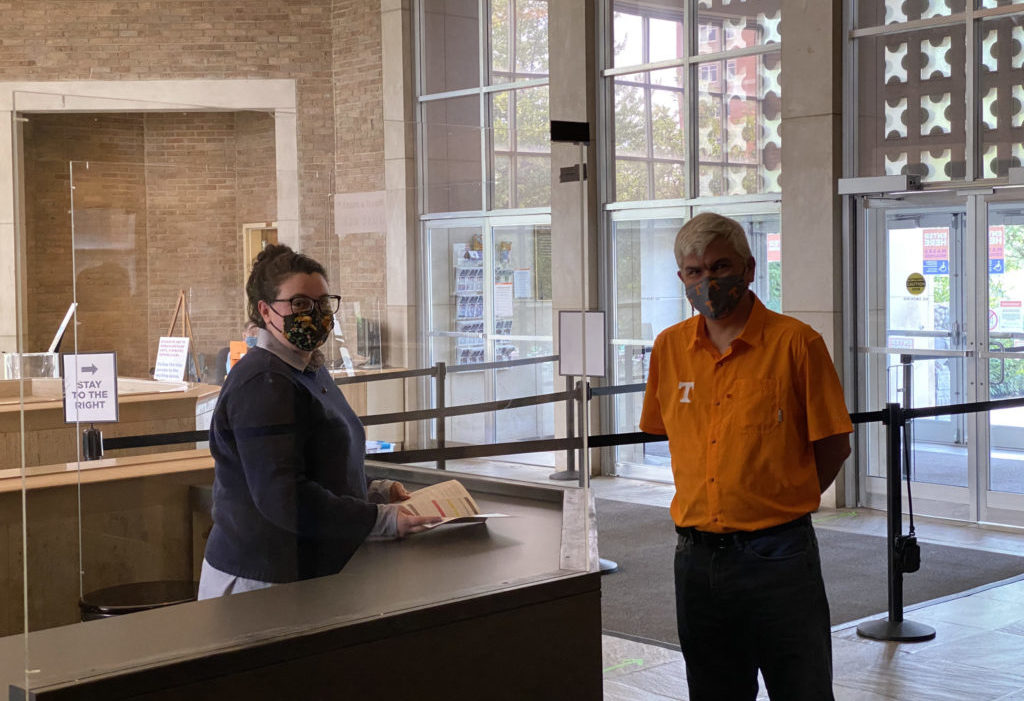 Preregister to visit the museum.
What is on view now, plus upcoming and past exhibitions.
---
Visitor Information
Open Hours
Tuesday–Saturday: 9 a.m. to 5 p.m. | Sunday: 12–4 p.m.
Admission & parking are free
Free advanced registration is requested, but walk-in guests are welcome.
Address:
1327 Circle Park Drive 
Knoxville, TN 37996
Group Tours
Are you looking to bring a class or group to the museum? Register for a learning experience or guided tour! We ask that you plan at least two weeks in advance, so we can provide the best service.
As a part of the UT community, we follow the university's COVID-19 guidelines and policy. Our goal is to provide a safe environment for our staff and guests.
Mask policy – Unless otherwise stated, visitors are required to follow the same guidelines for students and employees of the university.
Visitor Parking
Free parking is available on a first come first serve basis in front of the museum.
On weekdays: Between 7 a.m. and 4 p.m., request a free, two-hour museum parking pass at the Parking Information Center kiosk at the entrance to Circle Park Drive.
On weekends and weekdays after 4 p.m.: Free parking is available on Circle Park Drive and does not require a parking permit unless an athletic or other large event is scheduled on campus. On those occasions, paid parking is made available and parking attendants will be present.
Long-term paid parking is available at Volunteer Hall Parking Garage (Level 1, enter and exit from White Avenue only). See the UT campus map for more information.
Buses
Please call university parking and transit at 865-974-6031 and let them know you that your group has a planned visit to the museum. They will provide preferred locations for the bus and driver once the group has been dropped off. Locations change based on campus events, so we suggest making parking arrangements close to your visitation date.
While we welcome large groups, we do appreciate prior notification. Please inform us in advance of your visit, so we can provide the best experience to all guests and avoid conflicts where possible. Note that currently museum capacity is extremely limited. Schedule a Visit.
Vans and Minibuses
Vans and minibuses that fit into a standard parking space can be accommodated in the same way as car. However, if your vehicle requires extra space, we recommend following the same procedure as a bus.
The museum is fully accessible to individuals with disabilities.
Service animals as defined by the Americans with Disabilities Act are welcome.
There is limited seating in the museum. A wheelchair is available upon request on a first-come, first-served basis. Special accommodations for persons or groups with other disabilities may be requested in advance by calling 865-974-2144.
Please see the museum map and the university's accessibility website for more information.
The museum has baby-changing tables in the men's and women's restrooms.
Wireless internet access is free and open to the public in the museum.
The museum has no restaurant or café, and food and drink are not allowed in the galleries. Campus dining options are available, and there is a grassy area in Circle Park in front of the museum with benches appropriate for eating a packed lunch.
To keep the objects in our care protected and ensure a good experience for everyone, we have ask the following of our guests.
Please don't touch the art, signage, or objects on display.
Food and drink are not permitted in the exhibition galleries.
Non-flash photography is permitted except where otherwise posted (some special exhibitions do not allow photography).
If you would like to take notes or sketch, please do so with pencils only.
Please don't bring large bags, purses, or umbrellas into the exhibition spaces. There are cubbies available on a first come, first served basis to store items.
University of Tennessee is a smoke-free campus. The use of tobacco products and e-cigarettes/vaping are not permitted.
You can acquire a map of the galleries at the Information desk, or you can view and print it here.
The museum closes regularly on January 1, during UT Spring Recess, Memorial Day, July 4, Labor Day, UT Thanksgiving Administrative Closures (Thursday and Friday), and December 24 and 25. We also close for home games in Neyland Stadium during the football season.
Note that the ongoing pandemic may cause additional schedule changes.
Thank you for your patronage!