SAVE THE DATE!
Sunday, October 9, 2016
5:30–9 pm
Join UT alumnus and Antiques Roadshow appraiser, Lark Mason for an special evening at the McClung Museum. Mason will give the presentation, "Unexpected Treasures and How to Find Them: Why Great Works of Art Turn Up in Odd Locations," which will be followed by farm-to-table dinner stations interspersed throughout the galleries, delectable dessert displays, craft cocktails, and lively music by the Empty Bottle String Band.
Guests who purchase Connoisseur or Collector ticket packages will also be given the unique opportunity to have their personal collections evaluated by Mason––one of the foremost appraisers in the country.
Tickets:
Connoisseur Package:

$800 includes two tickets, one private in-home visit (approximately one hour in length) and verbal object evaluation with Lark Mason (12 available). $650 is tax deductible
Collector Package:

$350 includes two tickets, expert verbal evaluation for up to three objects during event (30 available). $200 is tax deductible.
Individual tickets:

$150 each. $75 is tax deductible.
Purchase Tickets Online
---
About Lark Mason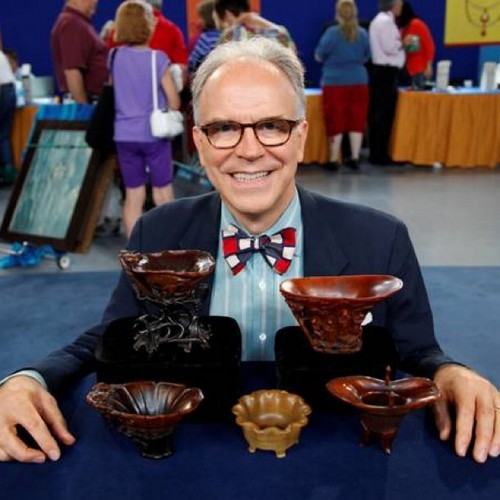 Lark E. Mason is a graduate of the University of Tennessee and has been active in the field of Art and Antiques for over forty years as a generalist and authority in Chinese works of art. He is known by millions of viewers for his appearances on PBS Antiques Roadshow where he holds the record for the most valuable find yet discovered, a set of Chinese carved ceremonial vessels valued at $1.5 million.
He has been interviewed by Good Morning America, ABC, CBS, and NBC, PBS Market Place, the New York Times, the Wall Street Journal, and many others. He is the Chairman of Asia Week New York, the largest Asian art event outside of Asia that occurs each March in Manhattan. He was formerly a senior executive at Sotheby's where he worked for 25 years on collections for the likes of The Duke and Duchess of Windsor, Andy Warhol, and Jacqueline Kennedy Onassis. He founded Lark Mason Associates and iGavel Auctions, and is the author and translator of numerous articles works, including, Classic Chinese Furniture of the Qing Dynasty, Connoisseurship of Chinese Furniture; and Asian Art, a guide to the arts of Asia. Mason is a Professor at New York University, and has been an adviser for institutions ranging from the Museum of Fine Arts in Boston to the Metropolitan Museum of Art in New York.
Our Sponsors
---
---